EQUINOX CONSTELLATION™ SERIES OTAs
Quality and precision in every aspect of design and manufacture
Absolutely the best in baffle design and low scatter surfaces
Internal surfaces in Deep Sky Black
---
THE DRACONIS™ SERIES OTAs - EI200S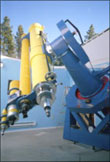 Features:
Available in Standard Achromatic and Full Apochromatic versions.
Precision Engineered by the Equinox Science Instrument Design Team.
Optics fabricated from precision annealed Schott Grade A optical blanks.
Optics are hand figured via laser autocollimation testing against NIST certified optical flat by Equinox Master Craftsman.
The finest in machine work for metallic parts.
High resolution imaging performance.
Great light grasp of non-obstructed 10" aperture.
Exceptional image contrast.
The ultimate in baffle design and fabrication which incorporates Equinox "DEEP SKY BLACK" ™ low reflectance coatings.
Exceptional Powder Coated exterior surfaces provide durability and an attractive appearance.
Relatively simple installation and assembly for a "large" telescope.
Full Equinox Customer Support from inquiry to installation.
Standard Accessories:
Fully adjustable objective cell assemblies
2-Stage Coarse/Fine focusers with Squaring-On adjustments
120 mm aperture refractor finder/guide telescope
Objective lens baffled dewcap/lightshade extension tube
Adjustable longitudinal trim weight for fine balance compensation of focal plane accessories
ALPHA DRACONIS™ - EI200S/RR1
ALPHA DRACONIS™ FOLDED - EI200S/RR1F
NU DRACONIS™ - EI200/RL1
Design specs and price to be released
Contact us for pre release info

---
EQUINOX™ CONSTELLATION SERIES MOUNTS
Rock solid stability and robustness of construction
Smooth, uniform, jitter free motion in both axes
Friction drive mechanism for ultimate in tracking accuracy
Analog and digital circles
Pre loaded precision bearings in both axes
High torque DC motive power
User friendly control system
Surfaces finished to provide long life and durability
THE SEXTANTIS™ SERIES MOUNTS - EI100S
German equatorial
Adaptable to a variety of OTAs (Optical Tube Assemblies)
ALPHA SEXTANTIS™ - EI100S/GE1
Load capacity: 34 kg (75 lbs)
Base price: $5500.00
BETA SEXTANTIS™ - EI100S/GE2
---
EQUINOX CUSTOM MOUNTS/OTAs

Equinox produces custom mounts and OTAs to user specifications. Feel free to contact us with your application needs. Several examples of our custom build capability are seen throughout the site
Feel free to contact us to discuss your mount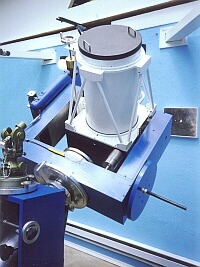 The example to the right is a combination equatorial and Azimuth/elevation mounting system.
Pedestal contains inner gimbal for AZ/EL adjustment of polar axis
Laser source in polar axle housing provides alignment reference for Theodolite
Mounting can be aligned with NCP to within 3 arc seconds during daylight