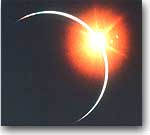 DEEP SKY BLACKTM is a low reflectivity surface treatment for optical, laser and instrumentation applications. Equinox has developed, and continues to refine, processes to produce optically black surfaces for stray light control and radiator (blackbody) applications.
DEEP SKY BLACKTM - "Photons Check in..."
SPACE QUALIFIED

DEEP SKY BLACK - Full Spectrum BasicTM (DSB-FSB) has undergone Space Qualification Testing at Sandia National Labs and performed magnificently (see matrix).
Download Space Qualification test report (zip 1.6 MB)

DO THE TRADE-OFFS

Maximize Optical Performance over Largest Wavelength Range
Maximize Mechanical Stability
Minimize Mechanical Fragility
Minimize Foreign Particle Generation
Minimize Post Fabrication Process Intrusion on Opto-Mechanical Design
Optimize Performance versus Cost
Common Applications:
Reduce stray light and improve image quality in optical systems
Detector calibration sources
Thermal control and radiator surfaces
Light pollution control
Improved contrast and acuity for visuals / vision systems
Product Description
DEEP SKY BLACKTM is extremely absorptive over a wide range of wavelengths from ultraviolet (UV), throught the visible, and into the infrared (IR). The combination of surface absorptivity and mechanical stability of the material over this range provides its unparalleled performance. DEEP SKY BLACKTM would typically be used in spectrometers, optical detector assemblies, detector baffle assemblies, microscopes, camera lens housings, calibration reference sources, medical instruments, telescopes, scanners, and on thermal control or radiator surfaces.
Family of Products
DEEP SKY BLACK - VISTM: DSB-VIS is optimized for performance in the visible wavelength regime.


DEEP SKY BLACK - Full Spectrum BasicTM: DSB-FSB is optimized to provide best performance over the largest wavelength regime possible.


DEEP SKY BLACK - Full Spectrum EnhancedTM: DSB-FSE is a special variant of DSB-FSB that has a more robust finish with the same outstanding optical characteristics of the FSB. This product is more suited to spacecraft applications, including those applications concerned with LEO environments.
Specifications and Performance

History
Equinox Interscience, Inc. initially developed DEEP SKY BLACKTM in an effort to improve the performance in optical instrumentation provided to our customers within the aerospace community. The aerospace users have had access to similar low reflectance and low scatter surface treatments for years. The cost was typically prohibitive, making it practical for only a select group of well-funded programs and systems.
Evolution and Development
In July of 2002, Equinox Interscience, Inc. formed an alliance with Advanced Surface Technologies in the production of DEEP SKY BLACKTM . EI/AST operate a dedicated DSB process line within AST's modern 30,000 sq ft, ISO Certified facility. EI/AST have made substantial progress in modifying and streamlining processes for manufacture of DEEP SKY BLACKTM and as a result, has significantly reduced cost, opening the door to those users who, in the past, would have deemed this type of surface treatment to be desirable but unattainable for their optical system.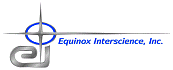 Partners in Innovation-Technology-Production for

DEEP SKY BLACKs™
Engineering Services
Equinox Interscience, Inc. Engineering Services for DEEP SKY BLACKTM products - we are here to help !
As a rule of thumb for any part, optical or otherwise, it is good practice to give consideration to post fabrication processing in the early stages of the design. This early appreciation typically results in reduced overall cost for the part and the required tooling and packaging. Equinox Interscience, Inc. is fully equipped to provide design guidance for your application.
It is sometimes not possible to take in all design implications early. Equinox Interscience, Inc. process specialists have become quite expert in working with existing details and assemblies. Equinox Interscience, Inc. process specialists have a wide range of knowledge on processes and materials and sources. Should a DEEP SKY BLACK surface not meet your need, our process specialist will make recommendations and provide guidance in directing you to the right process contact. Should there be no existing process and/or material available elsewhere, we would be happy to explore partnership options for development of a custom treatment.
Equinox Interscience, Inc. will be happy provide more current performance data and the latest properties information upon request. Please Call Us to Discuss Your Specific Application!
DSB Customer Information Questionnaire
Please complete and return this questionnaire (PDF) or (DOC) and return to:
Equinox Interscience/Advanced Surface Technologies
Attn: Jerry Cohea
6155 West 54th Avenue
Arvada, CO 80002
info@eisci.com
Phone: 303.421.6441
Fax: 303.421.2925
Guidelines regarding Application of DEEP SKY BLACK
DEEP SKY BLACK works best on aluminum substrates!
With the proper attention to tooling design and usage, DEEP SKY BLACK fits most any geometry or part profile!

There is no theoretical limit to size of part treated! [ However a practical limit exists in the size of the processing equipment used! ]

There are physical handling considerations that must be addressed for assembly, tooling, and packaging design!

DEEP SKY BLACK surfaces should not be contacted by foreign surfaces to assure best performance.
Equinox Interscience, Inc. has masking materials available allowing DEEP SKY BLACK to be applied to selective surface features! This extends the capability to utilize DEEP SKY BLACK in combination with other treatments (e.g., black anodize). A typical example of this approach is a lens barrel assembly with an interior wall treated to DEEP SKY BLACK standards and outside surfaces done in hard black anodize.
For flight and spacecraft applications DEEP SKY BLACK - Full Spectrum EnhancedTM is recommended.
Interesting tid-bits related to system stray light control
BUGS 'DO IT'
Many insects have segmented eyes. Several with many hundreds of segments. These segments are often separated by tufts of spines and fine short hair like protrusions which act as baffles in controlling stray light entering a particular eye segment.
FISH 'DO IT'
Some species of fish have a distinct red coloration in their eyes. It's not because they're tired. Some biologists believe these fish have the ability to pump extra blood to the eye to assist in control of stray light entering the ocular system.
Contact
Equinox Interscience, Inc. is pleased to provide more current performance data and the latest properties information upon request. Please call us to discuss your specific application.
We invite you to talk with the process specialists, discuss, question, and comment on your application needs. We are here to help!
WE ARE HAPPY TO PROVIDE SAMPLES UPON REQUEST
A Few DEEP SKY BLACK Customers:
FLIR Systems
AEA Technologies, United Kingdom
Verity Instruments
Beckman Coulter
Texas Instruments
Stellar Optics
Cal Corp, Canada
K-Lite Labs
NEC, Japan
Swales Aerospace
ElectroTech
Ray-Tec
NIST
BALL Aerospace
Lockheed Martin
MIT
ABB Bomen
Hunter Engineering
DRS Technologies
Waters